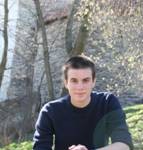 Since June 1847, five generations of the Booths family have led E.H. Booth & Co. Ltd from modest beginnings, with just one small shop in Blackpool, to the present day where the company trades 29 stores across Lancashire, Cumbria and Yorkshire.
Back in September last year Henry Booth, son of Graham Booth, Director of Properties, joined the business as Graduate Trainee, and will spend his first 2 years in the business training to be a Buyer.
Henry graduated from Aberdeen University with a degree in Politics and International Relations and also attended the University of Wisconsin-Eau Claire in the United States.     
 Edwin Booth, CEO of Booths, says; "It's a great pleasure to be able to welcome a member of the 6th generation into the business. Henry will learn the skills of retailing from the bottom up interacting with people at all levels of the business.  
 "I began my career in central distribution and believe it has had a major influence on the way I have run the business ever since. A family culture is embedded throughout the company and workforce, and  this is the key to making Booths a thriving business."
 Henry Booth says, "While there is a lot of pressure in joining a family business that has your name on it, I am looking forward to the challenge and I'm keen to learn as much about the different aspects of Booths as possible. I hope to develop my skills and contribute towards Booth's continued growth."